Great Falls Tribune article 2012
Montana Methodists on a Mission - Aiding Angola

March 11, 2012
By KRISTEN CATES
TribuneStaff Writer
MALANGE,ANGOLA — It was under a tree in April of 2009 that the people of the Cangandala United Methodist Church in eastern Angola came together for thefirst time, not as the enemies  they had once been during a 27-year civilwar, but as brothers and sisters gathered in peace, giving thanks to God.
Their beginning was humble, according to their pastor, the Rev. Ananias Gomes. Andthey continued to meet under a tree until finally, thanks to the work of their congregation and the support Gomes received from the United Methodist Churchesin Montana, they were able to build a simple, small church that still has a dirt floor and up until recently, only short stools on which to sit.
"We believe God has been working in front of us," Gomes said. "God willcontinue to help us."
Fo rtwo weeks in February, a mission team from the Yellowstone Annual Conference of the United Methodist Church visited eastern Angola to better understand the United Methodist churches they have worked with since 2003, including supporting 54 pastors with $40 per month for the last three years.
The team's goal was to meet as many of these pastors as possible, document their stories through interviews and photos and bring the information back to Montana to gather more support for the Angola project.
"I think this project helps give us an identity that even though we are people here in Montana, we can make a difference in people's lives that we'll never meet and know," said Sally McConnell, mission coordinator for the YellowstoneConference. "It's a witness that we, as followers of Jesus Christ,are called to be in community with churches."
Because Gomes is retired from the Angolan military and also teaches during the week, he was able to put aside the $40 per month that the Montana and Wyoming churches pay him and donate it to help finish off the church in August of 2010.
"The members made the blocks to build the church," Gomes said. "With the supplemental salary (from the Yellowstone Conference) I bought the roof."
The mission team visiting this year from the Yellowstone Conference included Mark Calhoun, pastor of First United MethodistChurch in Polson; Jeremy Scott,
pastor of Evangelical United Methodist Church in Billings; and Kristen Cates, the author of this story and a member of Christ United Methodist Church in Great Falls.
"It's a bigger project than I had imagined it, now having experienced it,"Calhoun said. "Emotionally and spiritually there were a number of experiences that touched me."
On one Sunday, the team traveled on washed-out dirt roads to the small village of Kimbamba, where Scott was set to preach that morning. After a two-hour service that included singing, praying and three rounds of offerings, the village set up a feast that included goat liver for their guests.
Only an hour from Malange are the second-largest waterfalls in all of Africa, Kalandula Falls, which the team visited in their first week. With no handrailings or warnings, visitors can walk out overboulders to the edge of the 300-foot falls.
"Sometimeswhen you come to Malange and don't come to Kalandula Falls,it means you haven't really been to Malange," said Alcides Martins,local coordinator of the pastoral support project. "This is the first place that identifies you have really come to Malange."
After hearing the story of Gomes' church and seeing the small stools they had to sit on, the team purchased 30 plastic chairs. The team listened to and documented many other stories along the way.
"It was an engagement of the missional practice of listening," Calhoun said.
In order to understand the stories of the people in the United Methodist Churchin Angola,it was important to hear about their history.
After fighting for years to gain independence from Portugal in 1975, the country erupted into a bloody 27-year civil war. People recall being unable to get to hospitals, being orphaned after their father was killed and their mother was taken captive, and children being killed by land mines.
But it was during the war that the United Methodist Church, which had been established in Angola already for 100 years, did some of its most important work, Martins said. "During the war, people were looking for security," Martins said. "They thought that the church was protecting them. Some people came to the church,and they stayed."
Martins,now 28, was just 16 when he met his daughter Yurelma, a young baby left in the bush outside of his family's home. He took her in, even though his family already was struggling to make ends meet, and eventually raised her as his own,formally adopting her five years ago.
After peace was reached in 2002, the churches' work hit full stride. Pastors such as Andre Cassule went out to the rural villages where much of the war had been
fought and worked with United Nations peacekeepers to convince people tolay down their weapons.
"After the war, we had much to do," Martins said. "We had to adapt to the globalization. Now people want more from the church. People want their spiritual problems solved and when they don't they run away."
Scott said it was when he heard stories like that — stories of the church working to reconcile a nation — that he realized how valuable and necessary it is for churches in Montana and Wyoming to provide $40 per month for pastoral support.
"They're engaged in a much more difficult ministerial setting than I'll ever have to face," he said. "That was really humbling for me."
McConnell said the Yellowstone Conference's relationship with East Angola began in2003, after former Bishop Warner Brown visited Eastern Angola and challenged his local churches to partner with theAfrican churches.
McConnell was part of a mission team who visited Angola in 2005, when the country was just starting to pick up the pieces after years of devastation that left roads torn up, buildings bombed out, and church facades pock-marked with bullet holes. What now is only a four- to five-hour car trip from the capital city of Luanda to Malange in eastern Angola was once a 16-hour trek.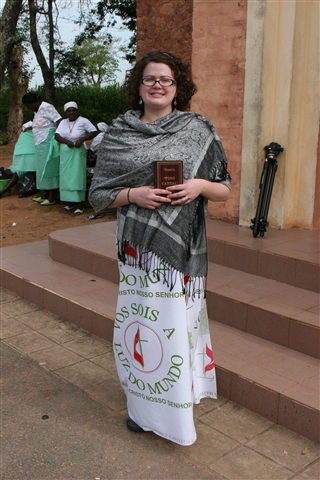 "The areas that we saw were still in post-war ruin," McConnell said. "In Malange, the buildings were burned out and shot up. (The churches) were welcoming back and looking for people who were still out in the bush."
TheYellowstone Conference began collecting money for the pastoral support projectin 2003, but was finally able to begin disbursing the $40 per month in 2008.
Martins, who has been making sure the money gets distributed to the pastors in the many rural churches that make up the East Angola Conference, said this money has been helping a lot.
"We have very complicated churches," Martins said. "Churches in thecountryside are different than those in the city."
For some pastors in the countryside, that $40 is the only income they receive.
The money goes toward paying for school for their children and buying food for themselves and seeds to grow crops.
Martins said the church is reaching a critical juncture, as more people gain access to education, and the government continues to expand its presence in a country that is trying to rebuild rapidly.
"Churches need to be prepared for a new dynamic," Martins said. "People are needing hope, strength. The church needs to be more aware of education and help people grow spiritually."
East Angolan Conference Bishop Jose Quipungo said the church is doing what it can to retain properly trained pastors, but it is hard when they can pay only $40 per month to a person who easily qualifies for a government job where they make atleast $500.
"You can't have a church that grows without a pastor that has an education," Quipungo said. "We need to train more pastors, especially in higher education."
To that end, the East Angola Conference has re-instated its school of theology at its mission station known as Quessua.
Quessua, once the hub of the United Methodist Churchin Angola featuring a hospital clinic and boys' and girls' orphanages, was decimated during the civil war. Slowly, it's being rebuilt.
In addition to the theology school where they are training local pastors to serve their local churches, there is now a middle school, high school, boys'orphanage and a domestic science program for women.
But Quipungo and others said it is challenging to be engaged in transformation when they don't have money to pay theology professors or even buy sewing machines and fabric for the domestic sciences program.
"It is very important. The church works well when the pastor has a higher education," Quipungo said. "A better educated pastor helps the local church to sustain itself more."
Despitethe challenges, there is a sense of peace and hope among the people of Angola.
At Cangandala United MethodistChurch, Gomes said their congregation consists of people who were on opposite sides during the war.
Cangandala is a small community just east of Malange made up primarily of small-scalefarmers. After inviting 25 people to meet under the tree in April of 2009,
Gomes said they went out to the fields and convinced the farmers to take abreak on Sundays and come to church. Their membership quickly grew to 67.
"We talked to them and convinced them to come to church," Gomes said."Spiritually and socially, we helped. We helped teach people to love and reconcile."
Gomes,who spent 10 years in the military prior to becoming an ordained pastor, said the work of the church and the work of the country are similar.
"You give something to the nation, to the state, to your community," he saidof his military experience. "But now you put God first."
Calhoun and Scott said it was incredible to witness the hope and hospitality of the people in Angola. Whether it was the United Methodist women's group making a special visit to see the mission team or an entire village gathering their tables and chairs in the church to cook a large feast for their guests, the two said there was never a shortage of gratitude.
"Theywere always so appreciative," Calhoun said. "The word 'Yellowstone' just rolled off their lips. They are so connected to us. It's overwhelming."
Being a United Methodist in Angola carries a lot of weight, Martins said.
"It'salways good to say 'I'm a Methodist,'" Martins said."People are proud to be United Methodists because we are not alone.
"We are not just Methodists in Angola.We are Methodists in the world."